--1--
Not much happening around these parts right now. I hate not having more to update for you guys, but it is what it is, right? Those of you who have been through this before know just how much silence goes into preparation for bringing home a little one, so I know you understand. It's hard to live through so much waiting and silence, but it's giving me a lot of time to pray my way through the process, which is good.
--2--
All this quiet time has given me something else, too: time to do lots of reading. There's a problem, however: I don't know what to read. I've already checked out a few blogs, read Dr Ray's book (fantastic, by the way), but what else? What say you, adoption-experts? What book or blog would you suggest? Where do you turn for adoption information, as well as information regarding Down Syndrome. Send me to your favourite resources!
--3--
hmmm.....what else can I say here? Let's see. It's hot here. Super-duper hot. Even the tap water is now hot. I no longer have to fill up the kids' plastic pool and let it sit in the sun to warm up before the kids climb in to play - now I can spray them directly with the hose and I get a "Mom, it feels like I'm taking a shower!!" out of them. It's icky hot. Yuck.
--4--
Remember our friends at
Let Us Begin
? Guess what? Baby Girl was born on Monday, and has already made it through her first surgery. She's doing very well, and her mommy and daddy couldn't be more in love! Introducing Seraphia Caritas (which means ardent charity):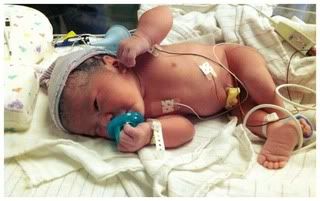 Isn't she beautiful? Head on over to
their blog
to send your congrats!
--5--
Don't forget about our friends, the
Vanchuras
, adopting sweet Thadius from Reece's Rainbow. Their iPad giveaway is still going strong, and there are some great opportunities for other goodies along the way to that iPad. Go
check it out at their blo
g!
--6--
Time to meet some new faces!
Look at this sweetheart
! She looks like she is just itching to get out and explore and run and play. Such a twinkle in her eyes!!
Piper only has a few months before she's transferred to a mental institution....but yet she's described as "clever" "speaking in full sentences" and "understanding new concepts easily." She's a sweet girl, gentle, and loves to sing and dance. Does a little girl like that really belong in a mental institution? Let's find her a home!!
--7--
Meet Jude
. I have a little boy almost exactly the same age as Jude. My little boy loves to run and play, build with legos, draw, make up stories, build mud pies in the backyard, and laugh with his family. I bet Jude would like to do things like that, too, and it kills me to think that he's in an orphanage instead of with a family. Hearing loss isn't a prescription for an orphanage or an institution in our country - sign language is even taught as a foreign language in many schools and colleges (including my alma mater, where I took 2 years of ASL). I'd love to see Jude in a family who helps him communicate with the world around him and grow to reach his full potential as a child of God. Could that family be yours? There are SO many resources out there for parents of deaf children - you would not be alone! Help me to find Jude a family, quickly.
*****
That's it for this week, folks! Thanks to
Jen
for hosting, once again!